DONT MISS AN EVEN BIGGER BABY & FAMILY EXPO PHILIPPINES THIS 2014
MEDIACOM Solutions, Inc., organizer of the Baby & Family Expo 2014 strives to make the biggest baby, children, pregnancy & family event of the year successful. They wish to formally announce the final date and venue of the Baby & Family Expo 2014 (BFE) which will provide more benefits to its valued exhibitors and guests.
Following the success of its first series in 2013, with over 12,000 visitors, 207 exhibitors and 246 brands, the second edition of Baby & Family Expo Philippines 2014 (BFE) – Shop, Learn & Play!  anticipates 20,000 visitors this year and is set to take center stage when it opens at the SMX Convention Center Manila on December 05-07, 2014.
The successful first series of Baby & Family Expo in 2013.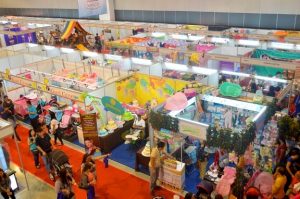 The SMX Convention Centre is known to be a venue for international exhibitions, large-scale trade events, industry conventions, and corporate and social functions. It's one of the leading establishments of the Philippine MICE (Meetings, Incentives, Conferences, and Exhibitions) Industry which is situated in the Mall of Asia Complex in Pasay City.
"This 3-day expo will coincide in the month of December, a good and fun time to showcase products and services to a larger targeted audience who will come with their entire family and friends," says David Abrenilla, MEDIACOM President, and CEO.
The BFE will also arrange a business matching service that will facilitate meetings between buyers, sellers, investors, distributors, importers, and exporters.
This year, the BFE  will introduce The Philippine Family Summit which will give parents and expecting parents the opportunity to learn the latest trends and tips from the country's experts on various talking topics such as pregnancy, maternity, newborns, infants, toddlers, kids, parenting, marriage and relationship, education for children, money and health.
Mark your calendars for the only trade show dedicated to provide Filipino families with innovative products and services related to the baby, children, pregnancy, parenting, and family industry and get valuable advice on topics related to pregnancy, babies, children and active parenting from the experts to make lives better.
Stay informed and get current updates by joining their community – Baby Expo Facebook Page  www.facebook.com/babyexpoph, Twitter: @BabyExpoPh and visiting the website at www.babyexpo.ph. For queries, call +632-509-4792 or email info@babyexpo.ph.